The spring selling season is upon us. Before you take the plunge and put your home on the market, make sure it's perfectly polished to ensure more potential buyers and a faster sale.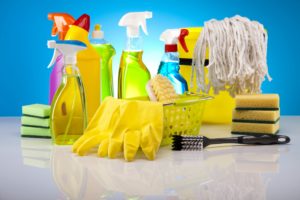 We've provided some tips on how to make your house attractive to buyers while not draining your pocketbook in the process.
Brighten up your abode
. Clean all of your blinds, windows and curtains. This will make your rooms appear brighter and more inviting to guests.
Clear your home of clutter
. No buyer should have to step around your belongings during a walk-through. Get rid of any items that are no longer needed, especially in areas like your basement and garage. Anything in good condition can be sold or donated. An experienced real estate agent can help you if you have questions.
Wash the walls
. The walls in your home soak up a lot of grease, smoke and dust and can leave a room looking dingy. You can spruce some life back in them using an all-purpose cleaner, hot water and a mop. Just make sure to be gentle to avoid chipping the paint.
Give bathrooms and kitchens extra TLC
. Mold and mildew can be extra problematic in bathrooms and kitchens. Make sure you use bleach or cleaners with bleach to remove stains from floors, doors and in between tiles. Side note: watch out for those pesky water spots on faucets and handles.
Keep foul smells at bay
. Check smelly areas like trash cans, garbage disposals, refrigerators and microwaves. Make sure to property clean these areas and then place baking soda inside your refrigerator and put lemon rinds down your garbage disposal for added freshness. After you've done some deep cleaning and made the leap to sell your home, your cleaning days aren't over. Clean up messes as you go, make sure counter tops are cleared each day and use disposable wipes for a quick wipe down of any hard surfaces (including toilets). Some quick and easy cleaning each day will keep you ready in the event of spur of the moment buyer visits. A seasoned real estate professional will be able to assist with any other issues or questions you may have. For more information on how you can prepare your home to put on the market, contact one of our experts at United Country Real Estate at 800-999-1020. Sources:
http://www.cleaninginstitute.org/clean_living/cleaning_tips_for_home_sellers.aspx
http://realtormag.realtor.org/sales-and-marketing/handouts-for-customers/for-sellers/spring-cleaning-checklist